Tim Breckenridge | Martial Arts Instructor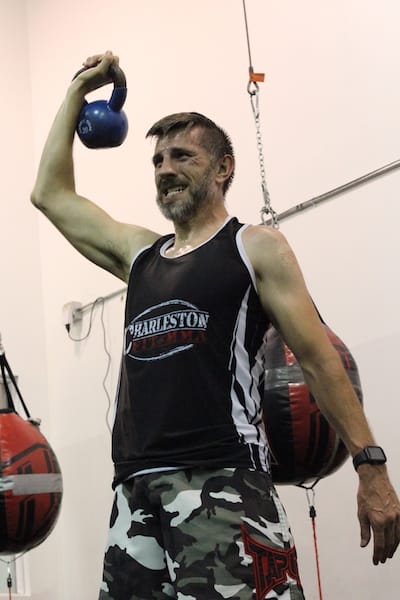 Tim Breckenridge
Thank you for visiting our page. My name is Tim Breckenridge. I was born into a military family in Quantico, VA and within a year relocated here to Charleston, SC. I grew up in the Goose Creek/ Ladson area and went to Elementary/Middle school at College Park and High School at Stratford High. I spent 15 years in the fire service and 5 years in the Navy and am now a Disabled Veteran. I have five wonderful children (two are step kids) and married to a beautiful woman (Holly Hurley-Breckenridge), that also owns a "The Hair Boutique" in Goose Creek. I know no matter what happens in my life, my family will always love me and be there to make me smile.
I consider myself a pretty easy going guy. I love to laugh and have fun with my family and friends. Most people know me from the various bars and restaurants I have owned over the years. I currently am only involved in one Craft Beer Bar in N. Charleston, Neighborhood Tap House. In addition I run and teach at this facility, Charleston Self Defense Academy & MMA and am finishing my last year of studies at Charleston Southern University with a Degree in Physical Education & Kinesiology.
Being out of hospitality full time has allowed me to pursue my passion of teaching the Krav Maga self-defense system and get people healthy & fit, which for me wasn't an easy start. I share this story because I am not ashamed to say I was fat and am extremely proud to say I lost 100 pounds. I hope that my story will inspire other that struggle with weight, health issues or lack of self confidence to make a change.
My battle with weight began at puberty with my weight peaking at 17 were I weighed 255 lbs with a 46″ waist. For me going through middle and High School was a nightmare. I have experienced every form of ridicule, bullying and mental anguish you could. I was in a very dark place at an age that children should be. When I turned 18 I decided I wanted a change and with the help of my Navy recruiter, RMC Steve Wild, I started my weight-loss journey (1993). Since I started, I knew fitness would be a challenge for me but I always felt so rewarded after a workout. Growing up being so over weight, and don't get me started on the acne, was extremely tough. I didn't have much of a support network, which made dealing with the constant teasing, harassment and ridicule difficult in my adolescent years. Running became an outlet for me, the more I ran the more my attitude and overall demeanor improved. With dropping weight and an acne medication that finally worked (Acutane), I was starting to find my self esteem. It has been such a struggle over the years and I could be self destructive at times but knowing where I came from and where I am, kept me motivated be better every day.
I initially lost 50 lbs to get in the Navy (1995) and another 15 lbs during my first few years active duty. Four years in, I injured my back while on deployment in the middle east (1997). After back surgery, I ballooned back up to 225 lbs (1999). A year later, despite the constant pain in my back, I had to get back in shape. Despite Doctors orders, I slowly got back into fitness and was able to lose 25 lbs before I was medically released from the Navy in 2000 and later classified as a disabled Veteran. Shortly after the Navy, I entered the Hospitality/Bar industry (2003) after plans for a fitness center fell through. Hospitality not being the healthiest lifestyle, I ballooned back up to 230 lbs.
In 2007 I decided to make an effort to live healthier and get fit again. Although this was the first time I saw Tony Horton (in the old Power90 videos), I didn't start his program… but wish I had. I was able to get back down in the 190 lbs range through traditional workouts and a personal trainer but still was not satisfied with my body. I am 6'1″ with a slender frame but tend to carry fat in the love handle and thigh areas. In 2009 I discovered MMA and how to train effectively. I started training Krav Maga and MMA and boy did I fall in love with it hard. I already loved watching the MMA Fights and had always wanted to get in that kind of shape. Through MMA I was able to get down to 155 lbs, but that was just a bit too thin for me so I level off around 170.
I always saw the P90X commercials and even downloaded copies off the internet (ssshhh, don't tell Tony) but I never did anything with them because of the length and time commitment. When I saw the P90X3 commercial, I told myself here is something I can realistically do. So I did actually purchase P90X3 but it was off craigslist, lol. I wanted to compare what I had learned throughout my years in fitness and training MMA to these main stream HIIT (High Intensity Interval Training) workouts. It took a few weeks before I started it but completed the 90 days. I have also completed the T25 workout, I really just wanted to compare the two most popular programs. Understanding this type of training and incorporating them with MMA has really made a difference in my life and solidified the style of fitness I need to being teaching. Incorporating these HIIT workouts with Krav Maga self-defense is the ultimate in training your mind and body. I whole heartily believe there is no better self-defense system than Krav Maga and no Better fitness workout than HIIT training.
I am now able to focus on helping others learn Krav Maga, get fit and live a healthier lifestyle. I know what I love to do and teach can really make a difference in not only the health of my members but in protecting themselves and their family. Being a part of this gym and working with some really terrific people that share the same enthusiasm for self-defense, fitness and martial arts, is truly a blessing. The focus of Charleston Self-Defense Academy & MMA is to not only to teach self-defense but to incorporate the training, diet and healthy lifestyle fighters live every day. We offer various classes for self-defense,fitness and martial arts. Please check out the site and I hope my story and enthusiasm for self-defense and fitness can motivate you to live better and create a healthier lifestyle through fitness, nutrition and a positive attitude.